The Cannabis Frontier for Medical Science
Patients Out of Time: 'POT'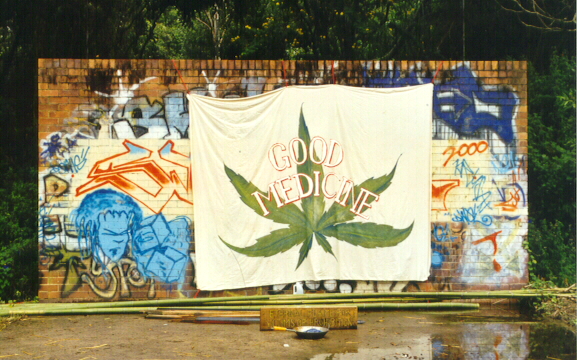 by David Berman, MD for ABC-CLIO
Patients Out of Time (POT) is a non-profit organization for patients, incorporated in Virginia in 1995. Their mission is to educate health professionals and the broader public about the medicinal value of cannabis. Their leadership is composed of medical and nursing professionals with expertise in the clinical applications of cannabis plus the fiv patients who are still able to use cannabis under fedreral law .. These federally legal patients receive seven to nine pounds a year of medicinal cannabis from the U.S. government farm at the University of Mississippi.

The organization grew out of a 1990 conference put on by the National Organization for the Reform of Marijuana Laws (NORML), held in Washington, D.C. The conference was broadcast nationally over C-SPAN and resulted in a huge public response. Nurses, physicians, and the few federal medical marijuana patients in the U.S. came together to form Patients out of Time. The group presents itself as a patient advocacy group, as opposed to a political lobbying group. It calls use of medical cannabis a health issue, not a legal issue.

Patients Out of Time has produced a number of educational materials on the topic of medical cannabis. Its documentary, "Mariajuana as Medicine" has been shown in Europe in the U.S. It has also striven to give wider exposure to important medical research on the topic. President of P.O.T. Mary Lynn Mathre edited the book Cannabis in Practice: A Legal, Historical, and Phamarcological Overview of the Therapeutic Use of Marijuana in 1997. The group has also sponsored research. In 2001, long-term medical marijuana patients were examined medically to determine the effects that the substance was having upon their health and the findings presented.




The group has organized four National Clinical Cannabis Therapeutic Conferences. These conferences have brought together a unique combination of patients, patient advocates, clinicians and researchers. Speakers have included notables in the field of medical marijuana research. These conferences have been held every other year since 2000. Conferences have been held in Portland, Oregon in 2001, in Charlottesville, Virginia in 2004, and in Santa Barbara, California in 2006. Co-sponsors have included the Oregon Department of Human Services, Health Services; Oregon Nurses Association; Mothers Against Misuse and Abuse; U of VA School of Nursing, U of VA Law School, U of VA School of Medicine Department of Anesthesiology, University of California at San Francisco, California Nurses Association, National Pharmacists Association, and SBCC.

Currently POT is one of the litigants in an effort to have cannabis reclassified by the FDA as a medication as opposed to a dangerous drug, a process known as "rescheduling." This contention is based on hundreds of studies from abroad and the U.S. Because of the research that has been compiled on the efficacy of medical cannabis in the last 30 years, advocates are hopeful that it will be accepted as a legitimate medicine in the coming years.